CLITORAL SUCTION: WOMANIZER VS HER ULTIMATE PLEASURE
Guest Written by Misty Blue
Honestly, I've always been highly skeptical of sex toys claiming to feel as good as a human mouth. Because anyone who's ever had a mouth on their clitoris knows there's no way to approximate that sensation. Which, I'm convinced, is half the reason anyone keeps their dating profiles active. 
"The Womanizer might change your mind," my Lovers store tour guide said, last time I popped in. I balked at the heinous name while simultaneously admiring its sleek, elegant, obviously European design.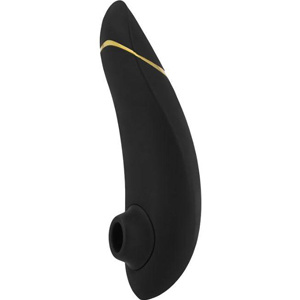 She held the toy up to the inside of my forearm, where the head formed a light seal and got to work with subtle vibrations and varying patterns of low-key suction. "It only turns on when it touches your skin, which preserves the battery," she said.  
I was impressed with how quiet it was. Like, virtually silent. And then I caught my breath while reading the product description. "Wait. Did someone say 
autopilot
?" Because who doesn't want to be totally hands-free? I mean, if we're talking about simulating the cunnilingus experience, I want that 
languor.
She nodded. "Everyone who works here has one. Or two or 10. It's basically the Ferrari of sex toys. They guarantee a one-minute orgasm," she said, which prompted some serious side-eye. It's not about that, for me. If a date bragged over drinks that we'd be done in 60 seconds, I'd do a spit take and sprint for the door.  
But the marketing copy is actually a bit more nuanced: "Our revolutionary technology gives you orgasms within seconds. Or minutes or hours. Choice is yours." My curiosity won out when I got to the part about how the stimulation never actually touches your clitoris. A purposeful part of the design, to guard against overstimulation. That fear assuaged, I read further: "Your body will never get used to the feeling, and you can come as often as you want," said the website. 
"Sold," I said. But of course, I kept perusing. There's an entire section of the store dedicated to clitoral suction, and I wasn't in a rush. "So what's happening here?" I asked, holding up Her Ultimate Pleasure—a toy that's basically a silicone-tongue-topped dildo wearing a bubble umbrella. It looked like a contraption, obvious in every way The Womanizer was subtle. "People see a tongue," she said. "They know what to do with that." 
"It looks like a breast pump," a friend said later, after I brought it home. 
literal
," I said, noting the midline groove of the pointed, hot-pink tongue. "If Hello Kitty had a sex toy," I said, pressing the button to deploy said mechanical tongue, which leapt to life with a high-pitched, very loud  noise. We both yelped and jumped back.  
"I feel like this was designed by someone who doesn't know how to work a clitoris," my friend said, pressing the tongue controls repeatedly to see just how frantically it could wave back and forth.   
"And someone who doesn't have neighbors," I added. I'd switched on the suction, which ramped up the cacophony even further with a loud, low-toned buzz-click combo. We both stood watching, mesmerized by the sound and the fury.  
"I don't understand that hard-and-fast tongue thing that men think women like," she said. "Does that ever work for anyone?"   
I was about to find out.   
The next morning, I brewed some coffee and created a rating system—with categories for noise level, ease of cleaning, pleasure quotient, aesthetics, and special features. And then I got down to business.   
I began with 
Her Ultimate Pleasure
—because there was so 
much 
to try, given its multiple attachments and "simultaneous licking, sucking, and vibrating action." I couldn't help but think of a late-night infomercial (It slices! It dices!) as I unpacked the box.   
Starting with both suction attachments (one round, one oval) I tested all three levels on the underside of my forearm. I'd describe them as medium; heavy; and DEAR GOD, MAKE IT STOP. Thirty seconds of suction on the high setting left a circular hickey that lasted half an hour. Let's just say that that level of suction, for me, was 
not 
pleasurable below the belt.   
In order to achieve a good seal, I had to stop mid-experiment to touch up my bikini line—something to think about, if you like a natural look. The suction definitely increased blood flow, but it wasn't so much clitoral suction as a rhythmic vacuuming of my entire vulva. The manufacturer calls it a "pulsing, milking suction," which is one of the least erotic descriptions I've ever heard. No one's vulva needs to be 
milked
.   
The noise was absurd enough to be distracting, so I concentrated very seriously on Getting Aroused, then tried to add the tongue. Thus began a seemingly never-ending comedy of errors. The round suction attachment didn't work with my anatomy—it's tall enough that the tongue inside it couldn't reach my clitoris, even on the highest suction setting (which was too much for me, anyway; I had no interest in a hickey down there). I switched to the oval attachment, only to find that it put the tongue, sweetmotherofgod, 
way too close 
to my body. Imagine not a steamy sexual experience but an excavator digging a trench. To make matters worse, the tongue worked at such intense levels that even the lowest setting took me straight to Overstimulation Station.   
Finally, I took off the suction attachment and flipped the toy around to take advantage of the vibrating dildo—the only part of the experience I legitimately enjoyed—until I was ready for the big finish. Still skipping the suction, I kept the tongue on low and held it so it touched me lightly. Sure, I had an orgasm (that's generally pretty easy for me), but the whole time I was thinking I'd much prefer 
fluttery rabbit ears
to a jabbing silicone tongue.     
The Score
Noise level: Ridiculously loud
Ease of cleaning: Super-easy (but I didn't love looking at the suction attachment once playtime was over)
Pleasure quotient: Meh—for 

$149

, it felt like a lot of work for a forced-feeling orgasm

Aesthetics: Just...no
Special features: Three toys in one, two suction attachments
Testing The Womanizer Premium
The only thing I don't like about this toy is its heinous name. I sat down with the manual before I began, because not every feature is obvious—and I wanted to be sure to experience both Smart Silence, which turns off the power anytime the toy isn't in direct contact with your body, and Autopilot, because so much of the thrill of receiving oral is the not knowing what'll happen next. The giving over of control. 
With the head of the toy over the pad of my thumb, I tested all 12 settings. I could immediately tell I'd like that 
The Womanizer
 would enclose my clitoris but not actually touch (or milk or vacuum) it. I noted the impressive technology, which uses different patterns of air to tap, tease, flicker, flutter, and create a rolling, light brushing-up-against sensation. 
These people understand my anatomy
, I thought, looking forward to my date with the Autopilot.
We took a few field trips: to my bed, to my bath, and well beyond what was comfortable with the intensity—just to see what each level was like. Turns out Autopilot begins at the Low setting, shifting between levels 1 and 4. One touch of a button bumps it up to Medium (levels 5 through 8) and another to Intense (levels 9 to 12), which is ideal when you want to get all Goldilocks trying to figure out what's just right. Best of all, the toy is designed to stay in place if you close your thighs around it, which leaves your hands free to wander wherever else your pleasure lies.
Switching between Low and Medium, I had one orgasm really quickly, then another a minute or two later—and then there was the dilemma of whether to keep going (just to see) or give myself a rest, already. Later, in the bathtub, I tried the Intense setting. It was intriguing for a few seconds, then slightly uncomfortable, then definitely too much, and then it made me pee a little (which is evidently 
f
airly common
?). It wasn't a squirting orgasm, it was pee—but who cares, I was in the bath. Also, the high setting is more than I wanted or needed anyway. Subsequent experiments got better and better. The Womanizer and I developed a closer, deeper bond—and as promised, every session felt different. None of them felt like real life, in-person cunnilingus, but they were really, really good. 
The Score
Noise level: Extremely quiet while in use, with automatic shut off 
Ease of cleaning: Super-easy 
Pleasure quotient: Totally worth its 

$209

 price tag

Aesthetics: Sleek, sophisticated, comfortable design
Special features: Hands-free, Autopilot setting, Smart Silence sensor, waterproof, two different-sized heads
Other Clitoral Stimulators Worth Checking Out
While The Womanizer Premium was the clear winner in my uniquely pleasurable suckfest, these are by no means the only two clitoral-suction toys out there.
With Pleasure,
LOVERS