Arrrtiiist Priiide Phase IV

Show your support for LGBTQIA+ art & artists by purchasing orgasmic art. 100% of proceeds will be donated to LGBTQIA+ focused-non profits.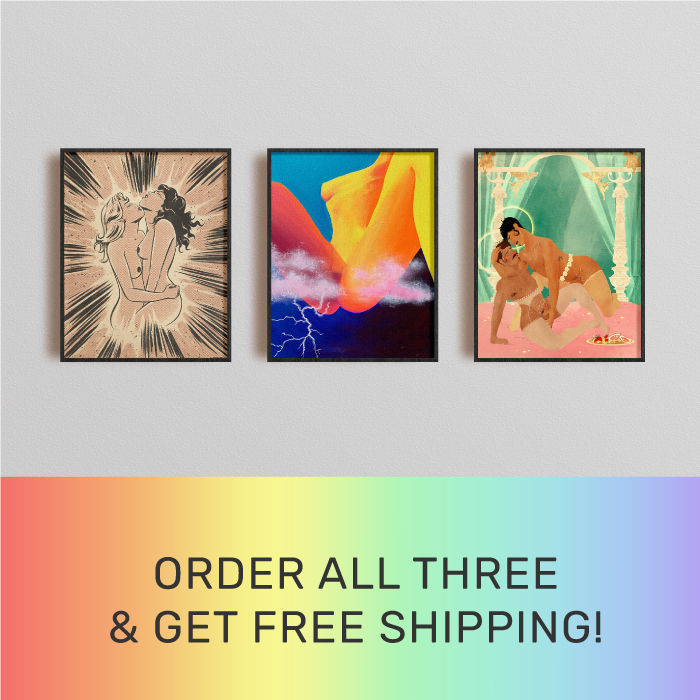 The Lovers Artist Series features the commissioned work of 10 LGBTQIA+ visual artists. In celebration of Pride and pleasure, Lovers commissioned this diverse group to create pieces of art that capture visually what "orgasm" feels like, what it looks like, and what it means to them.  
We created the Lovers Artist Series: Pride Edition to amplify the work of inspiring and transformative Queer artists, as well as to support non-profit organizations focused on serving the LGBTQIA+ community. At Lovers, we're committed to creating safe and inclusive spaces for all people to be their authentic selves. This series is provocative and allows for continued conversations around visibility, acceptance, and the complexity of pleasure and identity.
We asked the public to help curate our first Artist Series collection by voting for their favorite piece of art. The 3 artists whose work inspired the most votes are: (NAMES OF TOP 3 HERE) The selected artists will each receive an additional $1000 to further honor their work. 
Print replicas of the 3 chosen artists' Orgasm Art are now available to purchase on our website until July 9th, 2021! All proceeds from the sale of the prints will go to Lambda Legal and APLA Health. You can own a piece of Orgasm Art and support the work of these important non-profits.